written by Samuel Beckett
directed by Caitríona McLaughlin Olympia Theatre and Landmark Productions
Beckett's masterpiece was streamed live from Dublin's iconic Olympia Theatre for one performance only on 30 January 2021.
Siobhán McSweeney (Derry Girls) played Winnie, directed by Caitríona McLaughlin, with Marty Rea (Waiting for Godot) as Willie.
Winnie is buried up to her waist. The merciless sun beats down. Her husband Willie barely speaks.
And yet! – she proclaims – 'this will have been another happy day'.
Defiant, determined and fiercely resilient, Winnie greets each day with humour and boundless optimism, and lives as best she can between the bell for waking, and the bell for sleep.
Live Captions: An option to watch this performance with live-captions was available when booking.
AUDIO DESCRIPTION: An audio description was available for this show at this link and a transcript was available to download here. For patrons who are visually impaired, this Audio Described Introduction serves as a spoken programme. The audio describes the cast, their physical characteristics and costumes, the set, as well as a brief introduction to the play itself. The introduction plays for 5 minutes and 44 seconds and is also available in written form.
The Olympia Theatre and Landmark Productions are grateful to the Department of Tourism, Culture, Arts, Gaeltacht, Sport and Media for its support of Happy Days as part of the Pilot Live Performance Support Scheme.
Happy Days was performed live on-stage at the Olympia Theatre and was streamed by Ticket Co, a company specialising in live-streamed events.

Landmark Live is a new online streaming platform that will enable Landmark to bring its remarkable productions to audiences in their homes wherever they may be. Happy Days was the second live broadcast in 2021. Landmark Live was launched with the live broadcast of The Approach by Mark O'Rowe from Project Arts Centre in January 2021.
CAST
Winnie Siobhán McSweeney
Willie Marty Rea
CREATIVE
Writer Samuel Beckett
Director Caitríona McLaughlin
Set and Costume Designer Jamie Vartan
Lighting Designer Paul Keogan
Sound Designer Sinéad Diskin
PROGRAMME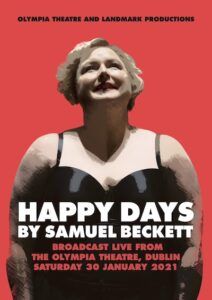 REVIEWS
★★★★ 'a testament to resilience and fortitude'
The Irish Times
★★★★ 'Siobhán McSweeney shines in Beckett's Happy Days ... superb ... a remarkable feat'
Irish Examiner
★★★★★ 'a magnificent brutal revival of Samuel Beckett's wasteland marriage play ... magnificent streamed production'
Musings in Intermission
★★★★ 'Siobhán McSweeney plays it like a dream'
Irish Mail on Sunday
Photographer: Patrick Redmond
PRODUCTION VIDEOS