by Paul Howard
directed by Jimmy Fay
starring Rory NolanLandmark Productions
★★★★ 'laugh out loud, hilarious good fun'The Arts Review
'Paul Howard has created a terrific comic character'Irish Independent
★★★★ 'two hours of unadulterated fun'Irish Daily Mail
ON-DEMAND INFORMATION
• Watch a recording of the live broadcast until midnight Sunday 23 May
• You can buy a ticket until 8pm Sunday 23 May
•  When booking your show ticket, you can buy a ticket to the Post-Show Q&A with Paul Howard and actor Rory Nolan in conversation with Irish Times columnist Róisín Ingle
• You can download the show programme here
SHOW INFORMATION
Duration: 2hours incl. 15 min interval
Post-Show Talk Duration: 30 minutes
Tickets: From €15
Suitable for Age 14+
Download the show programme here.
HOW TO WATCH
You can view the show on your computer, tablet or phone. You can also cast it to your smart TV.
For more information, please read our FAQs here.
Ross O'Carroll-Kelly is having a one-night stand – with the whole world! And you're invited! What are you waiting for?
Ross O'Carroll-Kelly's hilarious Postcards from the Ledge starring Rory Nolan is coming to your gaff this Saturday! Beamed into homes across the globe, don't miss a date with the ledge.
The year is 2029 and Ireland is in the midst of an economic boom. But Ross's daughter, Honor, is about to get married and that's when the trouble really begins.
Ross O'Carroll-Kelly is the star of the much-loved, best-selling series of books, and a weekly column in the Irish Times, by the award-winning writer, Paul Howard.
POST-SHOW TALK
Join writer Paul Howard and actor Rory Nolan in conversation with Irish Times columnist Róisín Ingle for a post-show Q&A. Add to your booking when buying your show ticket, or book separately here. Duration: 30 minutes approx.
"Rory Nolan as Ross is astonishing. He has made the character so much his own. This is an opportunity for people to see a world class actor." Paul Howard 
A must-see, don't miss your chance to make a date with the Ledge.
Presented by Landmark Productions, Postcards from the Ledge is broadcast live from Mermaid Arts Centre in Bray.
CAST
Ross O'Carroll-Kelly Rory Nolan
Featuring the voices of Kate Gilmore, Laurence Kinlan, Lisa Lambe, Caoimhe O'Malley, Philip O'Sullivan
CREATIVE
Writer Paul Howard
Director Jimmy Fay
Set and Costume Designer Grace Smart
Lighting Designer Paul Keogan
Sound Designer Carl Kennedy
PROGRAMME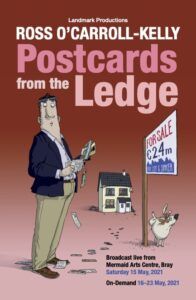 REVIEWS
★★★★ 'two hours of unadulterated fun'
Irish Daily Mail
'Paul Howard has created a terrific comic character'
Irish Independent
★★★★ 'laugh out loud, hilarious good fun'
The Arts Review
'a joy … Paul Howard is a brilliant comic writer'.
Mail on Sunday
'Nolan is simply terrific … tremendously, gloriously funny'
Irish Independent
'genius … incomparable performance'.
Sunday Independent
PRODUCTION VIDEOS
RELATED WEBSITE
https://postcardsfromtheledge.ie/
RELATED PRODUCTIONS