a new play by Emmet Kirwan
directed by Phillip McMahonLandmark Productions
in association with The Civic and Project Arts Centre
Download the show programme here.
'crackling with energy … a top-notch team'
The Sunday Times
★ ★ ★ ★ 'whip-smart writing … a fantastic feast of comic nostalgia'
The Irish Times
'a real winner … just what audiences need at this time … all the performances shine' 
Irish Independent
Set in the mid 90s, a turbulent period in Tallaght's social history, against the backdrop of the Drugs Out marches, Straight to Video is a biting new comedy written by, and starring, Emmet Kirwan.
In a video shop in west Tallaght, in the tumultuous spring of 1995, the owner Barry is having problems with his staff, the customers, a local vigilante called The Coach, and an elusive video pirate simply called The Video Van Man, who's ripping off his stock. His long-suffering staff Karl and Claire are the movie geek brains that keep the shop going, but they and the shop are under threat from a multitude of outside forces – local vigilantes, lack of opportunity, their chaotic family lives, not to mention VHS going rapidly out of fashion. The shop cannot survive, but if our gang is going out they'll go out together, with integrity … because all anyone in this play wants is to watch a film together, in peace.
Straight to Video is a buzzing ensemble comedy with a huge heaving heart featuring a stellar cast –  Stephen Brennan, Colin Campbell, Lloyd Cooney,  Derbhle Crotty, Callan Cummins, Kate Gilmore and Emmet Kirwan – directed by Phillip McMahon. A  real tonic for audiences returning to live theatre.
Straight to Video is made possible through Landmark's Arts Grant Funding from The Arts Council.
SHOW DETAILS
Running time: 2 hours and 20 minutes including a 15 minute interval.
Age Guidance: 14+
Tuesday 23 Nov: ISL (Irish sign language) performance. Book here. 
Thursday 25 Nov: Touch Tour and Audio Description. To Book: please email [email protected]
COVID-19 SAFETY INFORMATION

We'd like to reassure audiences that every precaution has been taken to ensure your visit to see Straight to Video at Project Arts Centre is safe. The following measures, based on Covid-19 Government guidance, are currently in place:
 
• Vaccine certificate scanned at the door and photo ID checked
• Masks to be worn at all times inside the venue and during the performance
• Please have your e-ticket downloaded to your device prior to arriving at the venue. (A printed copy can also be presented if preferable)

Please Note: Unfortunately, Project Arts Centre cannot accommodate people waiting in the foyer before or after the show and the bar will remain closed during the run. For more on Project's Covid guidelines, see here.

CAST
Coach Stephen Brennan
Karl Colin Campbell
Keno Lloyd Cooney
Denise Derbhle Crotty
Pierco Callan Cummins
Claire Kate Gilmore
Barry Emmet Kirwan
CREATIVE
Writer Emmet Kirwan
Director Phillip McMahon
Set Designer Grace Smart
Lighting Designer Sinéad McKenna
Sound Designer Alma Kelliher
Costume Designer Ellen Kirk
Movement Director Philip Connaughton
Associate Director Claire O'Reilly
PROGRAMME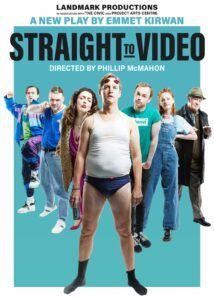 REVIEWS
★ ★ ★ ★ 'whip-smart writing … a fantastic feast of comic nostalgia … a delightfully bizarre and heady farce that delivers comedy, poignancy and drama'
The Irish Times
'All the performances shine ... clever, exciting and funny ... a real winner'
Irish Independent
'crackling with energy … a top-notch team'
The Sunday Times
Photos: Pat Redmond
PRODUCTION VIDEOS