written and directed by Mark O'Rowe
starring Derbhle Crotty, Aisling O'Sullivan and Catherine WalkerLandmark Productions
Mark O'Rowe's stunning work will play to live audiences from 26 May – 12 June, 2022 as part of the internationally renowned Spoleto Festival which takes place in Charleston, USA.
★ ★ ★ ★ ★ 'breathtaking performances … stunning study of everyday relationships' The Observer
Utterly riveting and engrossing, Mark O'Rowe's '60 minute jewel of a play' (The Guardian) reveals a profound truth about relationships, and about our deep, abiding need to make sense of our world.
Three conversations draw us into the inner lives of Anna, Cora and Denise. What will they reveal to each other?  And what does each of them have to hide? 
The Approach is a play about being human, an exploration of betrayal, and an appeal to listen before it's too late.
The 2018 and 2021 productions starred Cathy Belton (Cora), Derbhle Crotty (Denise) and Aisling O'Sullivan (Anna). At the Spoleto Festival in May 2022, the role of Cora will be played by Catherine Walker.
FUNDING ACKNOWLEDGEMENTS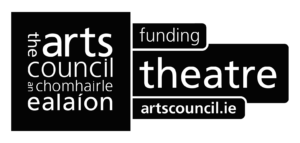 Landmark Productions would like to acknowledge and thank the Arts Council for its continued support and also Culture Ireland who were involved in supporting the original production, and the livestreams in 2021.

The Approach was the first production to be streamed in January 2021 as part of Landmark Live, a new online streaming platform. The live broadcasts of The Approach were presented in association with Project Arts Centre and St Ann's Warehouse. 
CAST
Cora Cathy Belton
Denise Derbhle Crotty
Anna Aisling O'Sullivan
CAST Spoleto Festival 2022
Cora Catherine Walker
Denise Derbhle Crotty
Anna Aisling O'Sullivan
CREATIVE
Writer and Director Mark O'Rowe
Set and Lighting Designer Sinéad McKenna
Costume Designer Joan O'Clery
Sound Designer Philip Stewart
PROGRAMME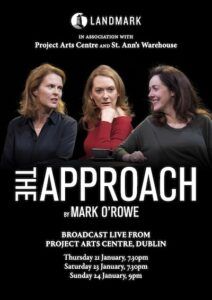 REVIEWS
★★★★ 'a 60 minute jewel of a play'
The Guardian
'Even through our computer screens, a production on a real stage with acting this fine is balm for the soul.'
The New York Times
'The Irish playwright Mark O'Rowe doesn't bring his work to New York often, but when he does, the seats catch fire … live from Dublin on your computer screen, it's a superb performance of The Approach.'
New York Magazine
★★★★ 'of all the streamed productions I have seen in the past year, this one comes closest to capturing the focus and tension of live theatre'
The Guardian
★★★★★ 'breathtaking performances … stunning study of everyday relationships'
The Observer
'Three of the finest performers of their generation'
The Irish Times
★★★★ 'brilliantly subtle and utterly engrossing'
Sunday Business Post
'O'Rowe's quite simply stunning new play'
Sunday Independent
PRODUCTION IMAGERY
Photographer: Patrick Redmond
PRODUCTION VIDEOS
RELATED PRODUCTIONS