written and directed by Mark O'Rowe
starring Cathy Belton, Derbhle Crotty and Aisling O'SullivanLandmark Productions
in association with Project Arts Centre and St. Ann's Warehouse
Watch On-Demand: Did you miss the live broadcasts of The Approach? There's still time to watch it back.
Video on Demand: Buy a ticket until midnight Sunday 31 January (GMT Irish time)
Watch back for 7 days from when you purchase your ticket
The VOD recording also includes a post-show discussion with Mark O'Rowe, Cathy Belton, Derbhle Crotty and Aisling O'Sullivan and is hosted by author, Louise O'Neill. (Not available for live captioned version)
Running Time: 60 minutes | Post-Show Talk: 30 minutes
Download the Show Programme here.
'Even through our computer screens, a production on a real stage with acting this fine is balm for the soul.' The New York Times
★★★★ 'of all the streamed productions I have seen in the past year, this one comes closest to capturing the focus and tension of live theatre' – The Guardian
Utterly riveting and engrossing, Mark O'Rowe's '60 minute jewel of a play' (The Guardian) reveals a profound truth about relationships, and about our deep, abiding need to make sense of our world.
Three conversations draw us into the inner lives of Anna, Cora and Denise. What will they reveal to each other?  And what does each of them have to hide? 
The Approach is a play about being human, an exploration of betrayal, and an appeal to listen before it's too late.
When The Approach first premiered at Project Arts Centre in 2018 it was hailed by audiences and critics alike and received a raft of reviews across the board. These live broadcast performances will bring back to the stage 'three of the finest performers of their generation' (The Irish Times) – Cathy Belton, Derbhle Crotty and Aisling O'Sullivan – in what have been described as 'breathtaking performances' – ★★★★★ The Observer.
AUDIO DESCRIPTION: An audio description is available for this show here and a downloadable transcript is here. For patrons who are visually impaired, this Audio Described Introduction serves as a spoken programme. The audio describes the cast, their physical characteristics and costumes, the set, as well as a brief introduction to the play itself. The introduction plays for 4 minutes and 13 seconds and is also available in written form.
Wherever you are in the world, we hope you'll come together online with friends and family, to experience this wonderfully absorbing play for yourself.
HOW TO WATCH THE LIVE BROADCASTS
The Approach is performed live. What you will see on your screen really is happening on-stage at Project Arts Centre. For information on how to watch the live broadcast click here. For any other queries there will be a chat function on the screen when the virtual foyer opens 15 minutes before show time. Or alternatively, please email [email protected] 
The Approach will be streamed by Ticket Co, a company specializing in live-streamed events. You will move to the Ticket Co site to make your booking. After booking a ticket, you will be sent a link to watch the show online at the set time. This link will be sent via email and by text. Links are unique to ticket buyers and can only be used on one device – they can not be shared.
The live stream can be watched on a computer, laptop, tablet, or phone and Ticket Co also has Google and Apple TV plugins, meaning ticket buyers can watch on their TVs. A 'Video on Demand' recording is available from January 24 – 31. 
FUNDING ACKNOWLEDGEMENTS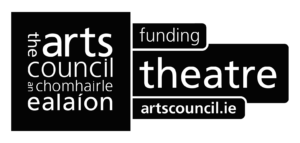 These performances have been made possible by The Arts Council of Ireland. The international presentation at St Ann's Warehouse in New York is supported by Culture Ireland.

Landmark Live is a new online streaming platform that will enable the company to bring its remarkable productions to audiences in their homes wherever they may be. The Approach is the first production to be streamed. On 30 January, Happy Days by Samuel Beckett will be broadcast live from the Olympia Theatre. 
The Approach by Mark O'Rowe received its world premiere in Project Arts Centre, Dublin on February 6, 2018. It played at Assembly as part of the Edinburgh Festival Fringe 2018, supported by Culture Ireland GB18: Promoting Irish arts in Britain.
CAST
Cora Cathy Belton
Denise Derbhle Crotty
Anna Aisling O'Sullivan
CREATIVE
Writer and Director Mark O'Rowe
Set and Lighting Designer Sinéad McKenna
Costume Designer Joan O'Clery
Sound Designer Philip Stewart
PROGRAMME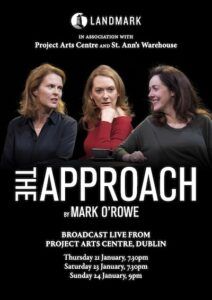 REVIEWS
★★★★ 'a 60 minute jewel of a play'
The Guardian
'Even through our computer screens, a production on a real stage with acting this fine is balm for the soul.'
The New York Times
'The Irish playwright Mark O'Rowe doesn't bring his work to New York often, but when he does, the seats catch fire … live from Dublin on your computer screen, it's a superb performance of The Approach.'
New York Magazine
★★★★ 'of all the streamed productions I have seen in the past year, this one comes closest to capturing the focus and tension of live theatre'
The Guardian
★★★★★ 'breathtaking performances … stunning study of everyday relationships'
The Observer
'Three of the finest performers of their generation'
The Irish Times
★★★★ 'brilliantly subtle and utterly engrossing'
Sunday Business Post
'O'Rowe's quite simply stunning new play'
Sunday Independent
Photographer: Patrick Redmond
PRODUCTION VIDEOS