written by Deirdre Kinahan
directed by Louise Lowe
starring Marie Mullen and
Brian GleesonLandmark Productions
Landmark presents the world premiere of Deirdre Kinahan's fierce, funny and profound new play as part of Cork Midsummer Festival 2021. Louise Lowe directs Marie Mullen and Brian Gleeson in three performances which will be broadcast live, using the beautiful Everyman auditorium as a backdrop.
How to Watch
Please visit this page and familiarise yourself with all you need to know about watching The Saviour online, including information about watching on demand.
Show Programme and Playscript
Download the free show programme for The Saviour here. 
Purchase and download The Saviour playscript ebook here, published by Nick Hern Books.
Show Details
Duration: 70 minutes approx (no interval)
Tickets from €15
Age 16+
There's a new man in Máire's life.  But some people aren't happy.
On the morning of her 67th birthday, Máire sits up in bed enjoying a cigarette.  There is a man downstairs.  She is blooming.
The Saviour is a new play that charts the extraordinary shift in social, political and religious life in Ireland over the past thirty years.  It is a play that asks questions about responsibility, about how we respond to trauma, and about the tricky question of forgiveness.
Landmark's previous work at Cork Midsummer Festival includes Asking for It and Theatre for One. In January of this year, it launched Landmark Live, a new online streaming platform to enable the company to bring the thrill of live theatre to audiences in their homes, wherever they may be.
Share this unique experience with audiences all around the world, and watch The Saviour performed live from the Everyman stage in June.
Supported by the Arts Council through an Arts Grant Funding award.
POST-SHOW TALK | IN THE GREEN ROOM
6pm Tuesday 22 June (Irish Standard Time).
Join a free post-show talk on Tuesday 22 June at 6pm IST (Irish standard time) with writer Deirdre Kinahan, director Louise Lowe, actor Marie Mullen, and producer Anne Clarke, moderated by journalist Meike Krüger. Register here to attend. This interactive Q+A will shed light on this exciting work.
The 'In the Green Room' post-show talk is presented by The Embassy of Ireland in Germany and the Consulate General of Ireland in Frankfurt in partnership with The English Theatre in Frankfurt, English Theatre Berlin and The English Theatre of Hamburg.
CAST
Máire Marie Mullen
Mel Brian Gleeson
CREATIVE
Writer Deirdre Kinahan
Director Louise Lowe
Composer Conor Mitchell
Costume Designer Joan O'Clery
Lighting Designer Mary Tumelty
Sound Designer Cameron Macaulay
PROGRAMME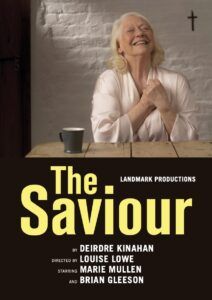 PRODUCTION VIDEOS