written by Deirdre Kinahan
directed by Louise Lowe
starring Marie Mullen and
Brian GleesonLandmark Productions
The Saviour is available to watch on demand as part of Edinburgh Festival Fringe from 6 – 30 August, 2021 as part of Assembly's digital season, supported by Culture Ireland.
'two gripping, emotionally raw performances … fluidly filmed production'
The Guardian
'rare and joyful … ambitious and emotionally complex piece'
★★★★ The Stage
★★★★ 'This riveting play … explodes expectations'
Sunday Times
★★★★ 'the performances are flawless'
Irish Mail on Sunday
There's a new man in Máire's life. But some people aren't happy.
On the morning of her 67th birthday, Máire sits up in bed enjoying a cigarette. There's a man downstairs. She is blooming. Deirdre Kinahan's fierce and funny play features 'blazing performances' (Irish Times) from Marie Mullen and Brian Gleeson. The Saviour charts an extraordinary shift in Ireland's social, political and religious life, asking questions about responsibility, how we respond to trauma and the tricky question of forgiveness.
Directed by Louise Lowe and starring Marie Mullen and Brian Gleeson, Deirdre Kinahan's fierce, funny and profound new play was first broadcast from The Everyman on 19 and 20 June, 2021 as part of Cork Midsummer Festival 2021. 
Supported by the Arts Council through an Arts Grant Funding award, its presentation at Edinburgh Festival Fringe is supported by Culture Ireland.
Show Details
Duration: 70 minutes approx (no interval)
Age 16+
Show Programme and Playscript
Download the free show programme for The Saviour here. 
Purchase and download The Saviour playscript ebook here, published by Nick Hern Books.
Captioned Performance and Audio Description
A captioned (subtitled) performance is available to watch on demand. An audio described introduction Is available here and a downloadable transcript is here. For patrons who are visually impaired, this Audio Described Introduction serves as a spoken programme.
Post-Show Talk
Watch a post-show talk here with writer Deirdre Kinahan, director Louise Lowe, actor Marie Mullen, and producer Anne Clarke. The 'In the Green Room' post-show talk was presented online on Tuesday 22 June by The Embassy of Ireland in Germany and the Consulate General of Ireland in Frankfurt in partnership with The English Theatre in Frankfurt, English Theatre Berlin and The English Theatre of Hamburg.
CAST
Máire Marie Mullen
Mel Brian Gleeson
CREATIVE
Writer Deirdre Kinahan
Director Louise Lowe
Composer Conor Mitchell
Costume Designer Joan O'Clery
Lighting Designer Mary Tumelty
Sound Designer Cameron Macaulay
PROGRAMME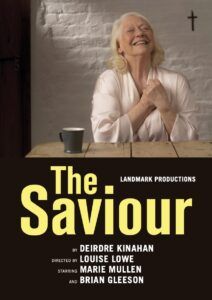 REVIEWS
'blazing performances'
The Irish Times
'brilliant lines and gallows humour … Mullen is a tour de force'
★★★★ Irish Examiner
'Gleeson is a beautifully controlled Mel … unleashing killer punches with stunning precision'
★★★★ Irish Mail on Sunday
'Louise Lowe expertly directs Mullen's emotional high-wire act'
Irish Independent
'an important work of the imagination … finds a compelling dramatic voice'
Irish Independent
'gripping and very, very powerful'
RTÉ Arena
PRODUCTION VIDEOS
RELATED PRODUCTIONS