written and directed by Enda Walsh
starring Clare Barrett, Aoife Duffin and Domhnall Gleeson, with Seán CarpioLandmark Productions and Galway International Arts Festival
"The best medicine anyone can ask for."
New York Times Critics' Pick

★ ★ ★ ★ ★  'superb production … a magnificent cast'
The Scotsman
★ ★ ★ ★ ★'pitch-perfect, hilarious … unforgettable … Domhnall Gleeson is outstanding'
The Observer
★ ★ ★ ★ ★  'this year's flagship play'
The Telegraph
✭✭✭✭✭ The Scotsman ✭✭✭✭✭ The Telegraph ✭✭✭✭✭ The Sunday Times ✭✭✭✭✭ The Observer ✭✭✭✭✭ WhatsonStage ✭✭✭✭✭ Irish Times ✭✭✭✭✭ The Arts Review ✭✭✭✭ The Guardian ✭✭✭✭ The Herald ✭✭✭✭ Financial Times ✭✭✭✭ The Stage ✭✭✭✭ The Daily Mail
John Kane is sitting on a hospital gurney, and very shortly a jazz percussionist, two women called Mary, a very old man and a giant lobster will arrive.
Then everything will start.
Medicine is a dark and frequently absurdist work that shatters the boundary between cast and audience. It is a devastatingly funny and moving meditation on how, for decades, we have treated those we have called 'mentally ill'.
This production features a sensational cast – Clare Barrett, Aoife Duffin and Domhnall Gleeson, with drummer, Seán Carpio, – as Enda Walsh once again shines a light on the darkest corners of our collective stories. Walsh returns with his regular team of world–class collaborators: designers Jamie Vartan [set], Adam Silverman [lighting], Helen Atkinson [sound], Joan O'Clery [costume] and composer Teho Teardo, with live drumming composed and performed by Seán Carpio.
SHOW DETAILS
Running Time | 90 minutes (no interval)
Age Suitability | For ages 16+
Download the show programme here.
Medicine is a Landmark Productions and Galway International Arts Festival production, the team that brought you Walsh's Misterman, Ballyturk and Arlington. It received its world premiere at Edinburgh International Festival in August 2021 prior to its opening at GIAF 2021 in September and New York transfer to St. Ann's Warehouse in November.
Landmark Productions and Galway International Arts Festival would like to acknowledge the support of the Arts Council for making the performances in Galway possible, and to Culture Ireland for supporting the performances in Edinburgh and in New York.
Image Credit: Domhnall Gleeson photographed by Alex Sapienza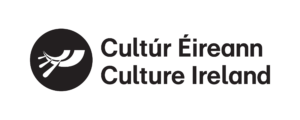 CAST
Clare Barrett
Aoife Duffin
Domhnall Gleeson
with Seán Carpio
CREATIVE
Written and Directed by Enda Walsh
Composer Teho Teardo
Set Designer Jamie Vartan
Lighting Designer Adam Silverman
Sound Designer Helen Atkinson
Costume Designer Joan O'Clery
Live Drumming Composed and Performed by Seán Carpio
Associate Director Eoghan Carrick
REVIEWS
★★★★★ 'superb production … the text is beautifully and bravely teased out by a magnificent cast'
-The Scotsman
★★★★★ 'Domhnall Gleeson is soul-shuddering … the wonderfully explosive Aoife Duffin … Clare Barrett on barnstorming form'
-The Telegraph
★★★★★ 'the imprint of a great performance a bodily impression that stays with you for ever'
-The Sunday Times
★★★★★ 'Domhnall Gleeson is outstanding in Enda Walsh's revelatory new play... The production is pitch-perfect, hilarious, terrifying and revelatory. Unforgettable.'
-The Observer
★★★★★ 'Gleeson's performance is a powerhouse … impossible to take your eyes off him'
-WhatsonStage
★★★★ 'flamboyant, funny and surreal … played superbly by Domhnall Gleeson'
-The Guardian
★★★★★ 'Domhnall Gleeson is a force to be reckoned with. This performance cuts you to the bone ... A taut balance of levity and sorrow is carefully maintained by a talented ensemble.'
- Irish Times
★★★★★ 'jaw dropping performances… Go, look, listen … Medicine never tasted this good.'
- The Arts Review
★★★★★ ''Magnificent performances…outstanding actors.'
- The Sunday Times Ireland
★★★★ 'equal doses humour and deep disquiet … there's real joy in seeing Duffin and Barrett spar'
-Financial Times
PRODUCTION IMAGERY
Photographer: Jess Shurte / Edinburgh International Festival
PRODUCTION VIDEOS
RELATED WEBSITE
https://medicinetheplay.ie
RELATED PRODUCTIONS